You know you're a hot company when simply making your first hire is viewed as news. Now that plinky has launched, the former super-secret described as a "social content encouragement startup" is generating buzz by bloggers and will create even more interest among marketers.
What is plinky?
Well, let's first look at what the company says on its website:
Plinky makes it easy for you to create inspired content. Every day we provide a prompt (i.e. a question or challenge) and you answer. We make it simple to add rich media and share your answers on Facebook, Twitter and blogs.
So, if you're a blogger that has no idea what to talk about, plinky gives you questions to get you going. The interface is slick: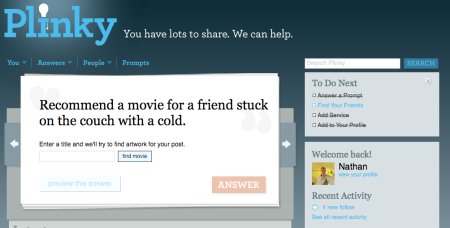 Now, when I add my answer "The Big Lebowski," I get the following: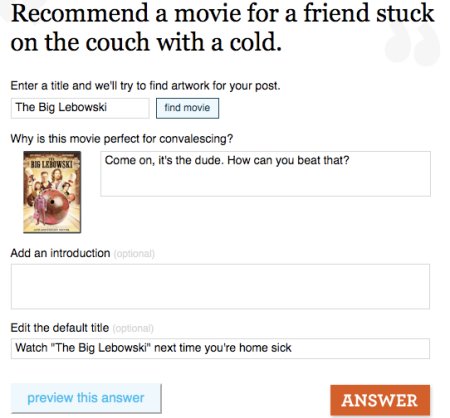 And once you answer the question, you can compare your answer with what other bloggers have said, and you can add video, images, etc. Then, you can send your answer to your blog, twitter or Facebook: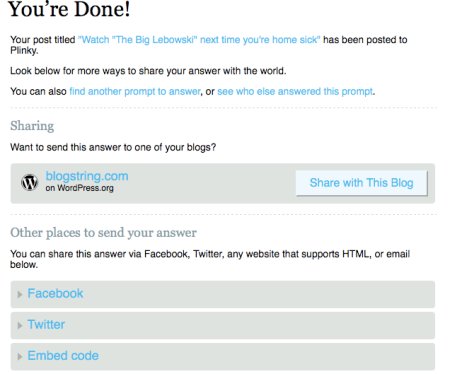 Clicking "Share with This Blog" will post the image, the title, and your comments directly to your blog: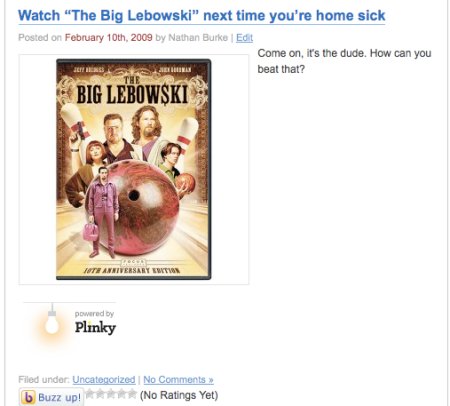 You get the idea. For the end user, it's a service that inspires post ideas and makes it easy to integrate answers into a blog. But that's not what really makes plinky a really interesting service. We'll get there. Trust me.
Who's Behind Plinky?
Here's where the buzz comes in. Way back in June of 2008, MG Siegler at VentureBeat wrote about the then stealth mode service because of the team. CEO Jason Shellen worked at Pyra Labs, which turned into Blogger. When Google bought blogger in 2003, Shellen was part of the acquisition, and during his time at Google, he became the founding manager of Google Reader. Ryan Freitas is the Director of Product Design. He came from Adaptive Path, and was responsible for building Plazes and led the redesign of MySpace. The other co-founder is Simeon Simeonov, who was formerly the chief architect of Macromedia. Biz Stone of Twitter fame is one of the company's advisers. Not a bunch of lightweights here.
How's It Going To Make Money?
Well, right now the service is entirely free and looks to be Google ad-supported, but I doubt that will last. Why? Well, let's think about it. Plinky is compiling a huge database full of preference data, all from people that are looking to spread the word about what they like. The service is not only one giant focus group, but a focus group full of people that are begging for things to talk about.
There are currently 12,502 members using plinky, but hey, it's early. Imagine when 500,000 bloggers are using the service. Now imagine you're the brand manager for a company about to launch a new product. How much would you be willing to pay plinky to ask 500,000 bloggers to write about what you're selling? Or, instead of doing a shotgun blast to every member, maybe you only want to have the prompt sent to males between 18 and 35 living in the Northeast United States who have indicated a strong preference for consumer electronics and have written blog posts about them.
Whoa.
When I first heard about the service, my initial reaction was "Great. Now everyone is going to be writing about the same thing. This is basically a meme generator." My eyes then lit up, and I said "Wait. If everyone is going to be writing about the same thing, that means brands are going to want in, and this will shift from generation of memes to the generation of marketing buzz via distributed product reviews on blogs."
Genius.
Think about this: How open would you be to answering a phone survey about a brand? Or how about a paper survey? It's a chore and you'd probably avoid it at all cost. But transform that survey into a social content encouragement tool and it is a different animal.
Now, I have to take a step back and admit that this whole scenario is complete speculation. Looking through the current prompts, there is nothing brand-specific, and nothing on the site tells me that brands can pay to be included in prompts. But if plinky isn't going to go that route, I'd imagine someone will very soon, and it will be big. Controversial and maybe even blasphemy to the social media purists, but big nonetheless.
I'd likely be seen as a lunatic if I failed to add something like "in this economic climate, advertisers are cautious in spending money on online ads without some kind of behavioral or preference-based targeting. Plinky could serve as the perfect platform for brands looking to target both those with indicated interest as well as those with influence and reach via blogs." I could say that. I did say that. But that's just obvious. Honestly, regardless of the "economic climate," marketers have been begging for something like this for years. Whether it is plinky that delivers the buzz creation or it is another service, this will happen.
Nathan Burke is a blogger and startup marketing consultant. He can be found at blogtring.com, a blog dedicated to social media, web 2.0 tools, and anything beta. He also publishes marketingstartups.com, a site focused on helping startups promote their offerings online.